About Us

SMB GRADNJA CONSTRUCTION COMPANY WAS FOUNDED ON JULY 20, 2000 IN SUBOTICA. WE HAVE BUILT OVER 300,000 SQUARE METERS OF VARIOUS FACILITIES IN THE LAST DECADE AND A LONG LIST OF SATISFIED INVESTORS PROVES OUR PROFESSIONAL AND EXPERT APPROACH TO ALL TASKS. OUR COMPANY IS KNOWN FOR COMPLYING WITH CONTRACT DOCUMENTS AND MAINTAINING HIGH QUALITY IN CONSTRUCTION WORKS.
WE ARE EQUIPED FOR CONSTRUCTION OF VARIOUS BUILDING CONSTRUCTIONS, CIVIL ENGINEERING CONSTRUCTION AND HYDRO CONSTRUCTION. OUR COOPERATION WITH INVESTORS IS PRESENT ON ALL LEVELS:
FROM CONCEPTUAL DESIGNS, BUILDING PLANS TO CONSTRUCTION OF VARIOUS FACILITIES AND DOING FINISHING WORKS. HIGH LEVEL OF CONSTRUCTION WORKER EXPERTISE IN COOPERATION WITH THE COMPANY MANAGEMENT, ENSURES QUALITY CONSTUCTION WORK UNDER ALL CONDITIONS AND ACCORDING TO STANDARDS AND INVESTOR'S DEMANDS.
MOTO "WINNING ART SPACE" TALKING ABOUT OUR PERSONALITY TO MODERN HOMES AND BUILDINGS CONTEMPORARY world into a OAZE AUTHENTIC PLEASURE AND COMFORT. Our vision is to improve the society in which we live and work, as well as with their customers, partners and employees BE LEADER OF QUALITY AND MODERN BUILDING. IF YOU WANT YOUR PROJECTS ARE IMPLEMENTED at the highest levels "SMB GRADNJA" IS RELIABLE PARTNER!
Standards
THE COMPANY'S ORIENTATION TOWARDS QUALITY IS CONFIRMED BY OBTAINING THE FOLLOWING STANDARD CERTIFICATES: ISO 9001, ISO 14001 AND OHSAS 18001
WE ARE CONSTATNLY STRIVING TO IMPROVE OUR OFFER AND COMPANY QUALITY.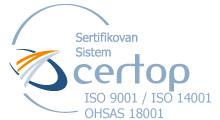 Promo
News
Best Enterprise Award by the Europe Business Assembly
Through the initiative of Europe Business Assembly (EBA), Oxford, UK, the International Community of business leaders and academics, global ranking, consulting, marketing and publishing centre, the international 'Prime Business Destinations: Investment, Innovations, business Process Improvement' forum was held on the 29th of June, 2016 in Bad-Ems, Germany. Realizing its mission to provide practical dialogue via...
Prizes and wards
Construction

THE SMB CONSTRUCTION COMPANY WORK INCLUDES A WIDE SPECTAR OF DIFFERENT PROJECTS AND IS DRIVEN BY COMMUNITY NEEDS. THIS FLEXIBILITY SHOWS THAT SMB GRADNJA IS CAPABLE OF BUILDING ALL, FROM COMMERCIAL FACILITIES, HOTELS AND SCHOOLS TO PRODUCTION FACILITIES, RESIDENTIAL AND SPORTS FACILITIES. IN ALL OF THE COMPLEX PROJECTS, OUR COMPANY COPPERATES WITH RENOWNED PRODUCERS AND PARTNERS.
SMB GRADNJA WAS CHOSEN AS MANAGEMENT CONTRACTOR OF THE SWAROVSKI FACTORY IN SUBOTICA. THE CONSTRUCTION OF THIS EXCEPTIONALLY COMPLEX AND IMPOSING BUSINESS-PRODUCTION FACILITY, GROSS AREA ABOUT 18,000 SQUARE METERS WAS COMPLETED IN MAY 2015.
SMB GRADNJA IMPLEMENTED WORKS AT THE FOOTBALL ASSOCIATION OF SERBIA SPORTS CENTER, BETTER KNOWN AS THE HOUSE OF FOOTBALL AS WELL AS ON THE SPORTS RECREATIONAL CENTER PROZIVKA IN SUBOTICA.
SUBOTICA FREE ZONE IS YET ANOTHER SUCESSFULLY REALIZED PROJECT OF SMB GRADNJA. IT COVERS 26,000 SQUARE METERS OF PRODUCTION AND WAREHOUSE SPACE.
THE LISTED FACILITIES ARE ONLY AN ILLUSTRATION OF SMB GRADNJA CONDUCTING BUSINESS THAT ICLUDES CONSTRUCTION OF NUMEROUS SHOPPING CENTERS, PETROL STATIONS, PRODUCTION FACILITIES, COMMERCIAL AND RESIDENTIAL BUILDINGS, HOTELS, SCHOOLS, SPORTS COURTS AND OTHER SPECIFIC FACILITIES.
mechanization
Mechanization
Has the latest construction machinery, equipment and tools, as well as transport MACHINES NECESSARY FOR CARRYING OUT ALL TYPES OF CONSTRUCTION WORKS. This is another very important factor that allows us to perform their work quality, efficient and fast.
construction
References
View our catalog
Continuous successful cooperation is achieved owing to contemporary way of work and good organization as well as to implementation of worldwide experiences and knowledge. Our expert staff reacts quickly, efficiently and boldly and successfully handles even the most complex demands from the investor. We use the most contemporary materials and technologies in the course of our work. Our company's imperative are professional relationship among employees, quality, expertise and respect of contacted works. All stated is the reason for SMB gradnja having a very long list of satisfied investors.